Arriba, Arriba! Last week Lily (@hashtagbylily) and I visited the beautiful Mexico. Playa del Carmen, Yucatan and Tulum to be exact. It was a trip to remember. Here is all you need to know about our trip to Mexico. Travel tips and all our photos included!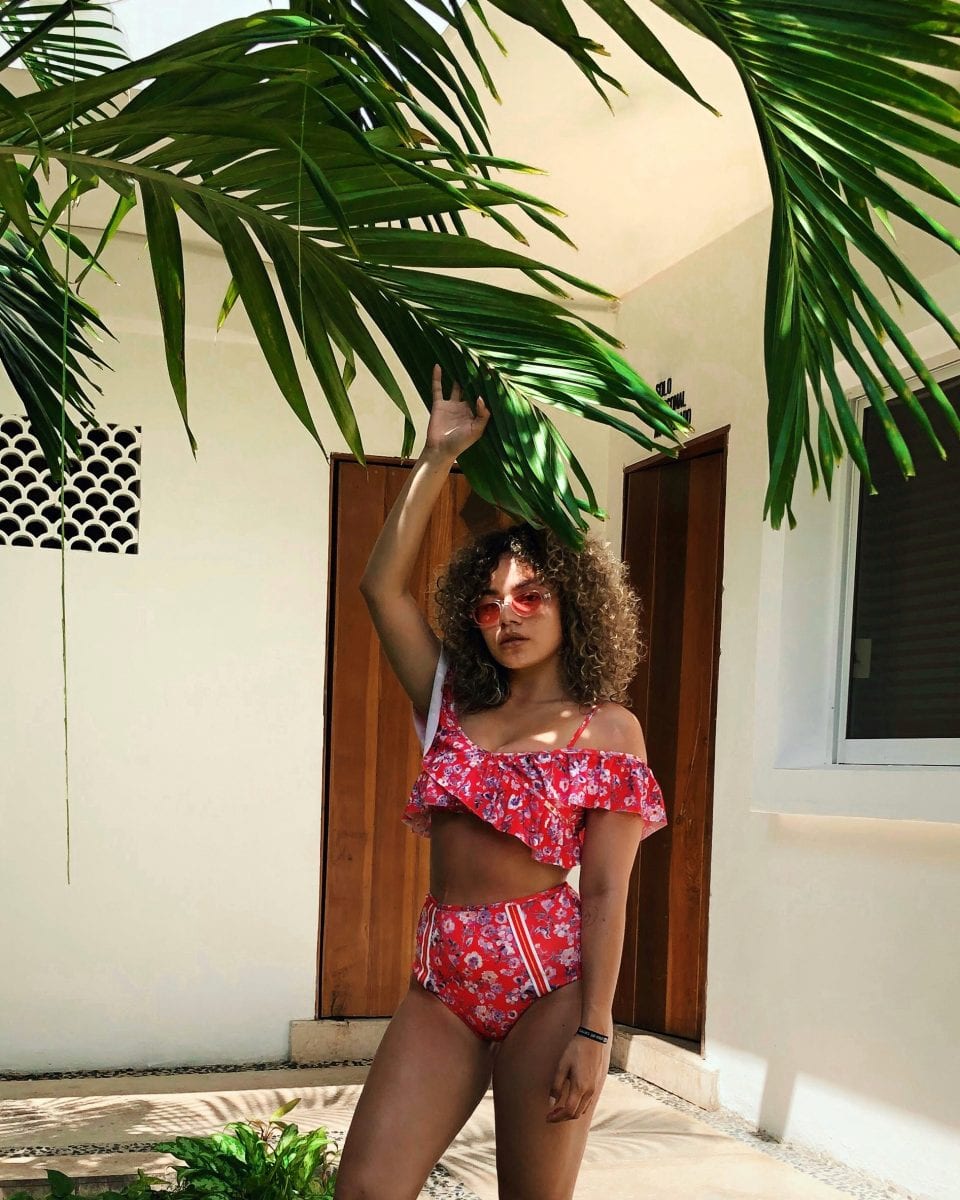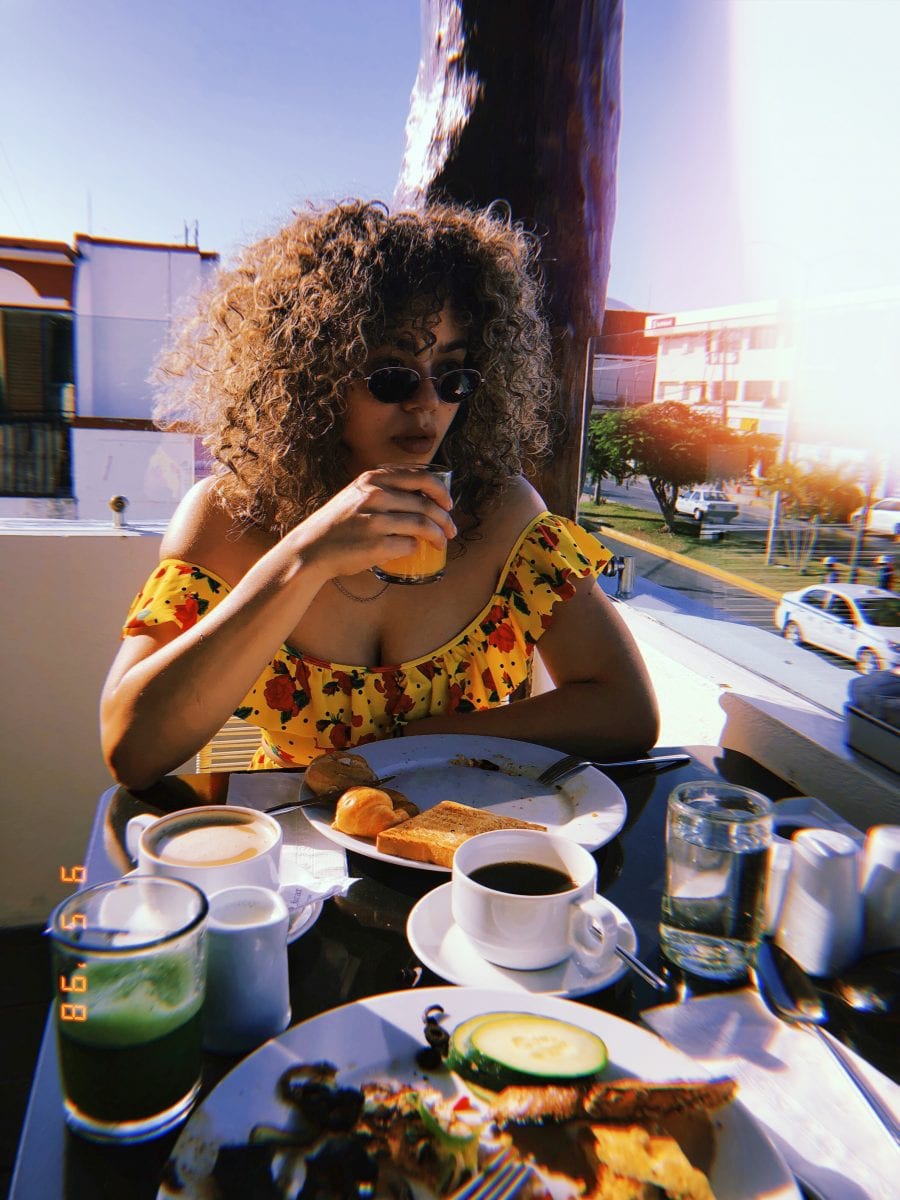 that hotel breakkieProcessed with VSCO with c6 presetthe Vegan taco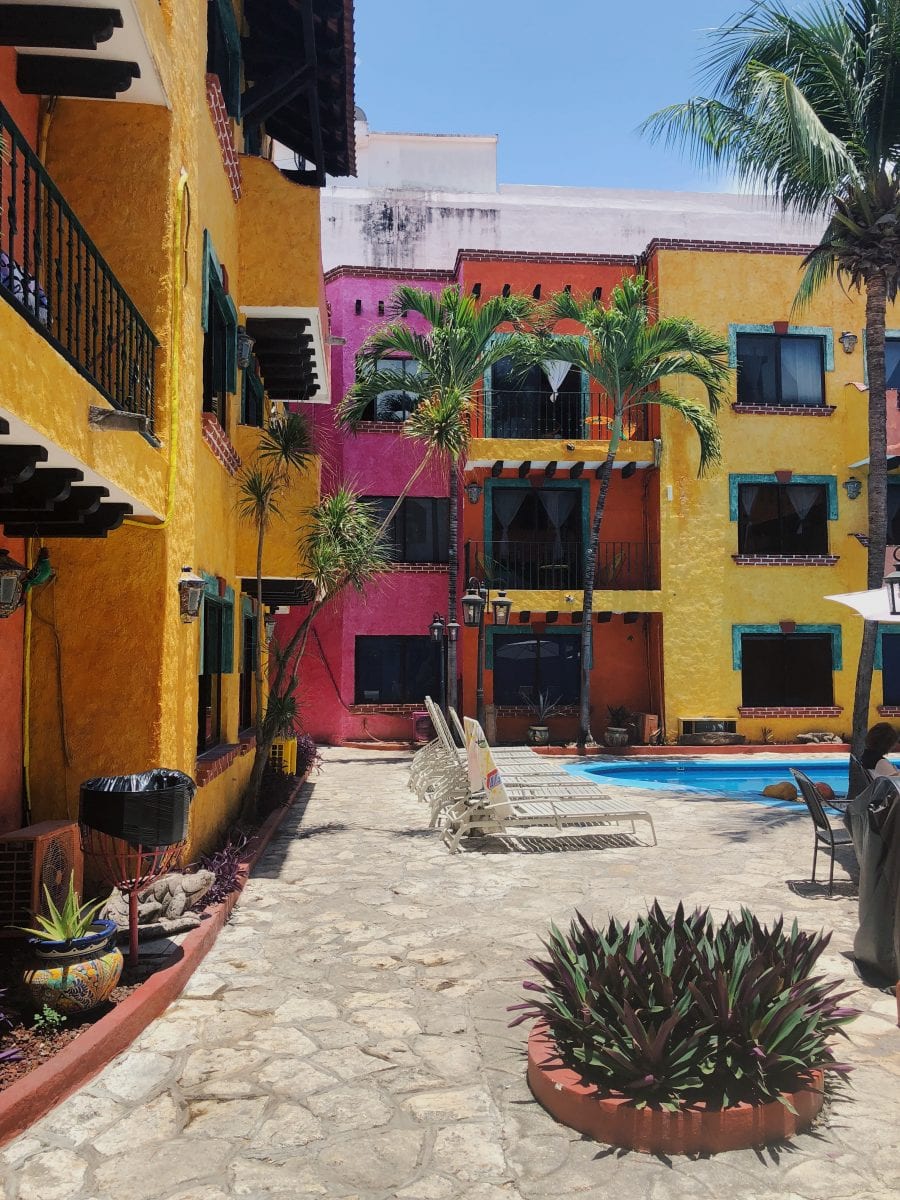 DAY 1
PLAYA DEL CARMEN
The beach
Easily settling in to the Mexico time and vibes. We arrived at 8 in the evening. First things first? Food. We had dinner at this vegan taco place called BIO-Natural, located close to our hotel. Vegan tacos and falafel to start! On to the next day, day 1. So we stayed at hotel HM Playa Del Carmen. A beautiful, simple, hotel including swimming pool. We were curious about Playa del Carmen so decided to check out the beach there and our hotel its Beachclub, called Kool Beach Club Playa del Carmen. We got ourselves two beds on the front row, with a view directly on the sea. A single bed costs $1,350.00 pesos per person. Which is approximately 58 euros. The price includes food and drinks. We didn't even finish the budget, so we were allowed to spend the remaining amount at one of the other restaurants that are supported by our hotel.
Evening plans
Therefore in the evening we had our dinner at Los Tulipanes, located at Avenida 5 – the most touristic street of Playa del Carmen. Everything grilled is very good there (we ordered Filet Mignon) however the steamed vegetables and salad were a bit disappointing. As I mentioned, we didn't do much the first day except for tanning, enjoying the Mexican heat and beach. How about tomorrow? Well, Tulum baby!
DAY 2
PARADISE NOMADE
Nômade lunch
Hippie vibes
It's day 2! We heard a lot about Tulum before we left to Mexico. In case you don't know anything about it: Tulum is the site of a pre-Columbian Mayan walled city serving as a major port for Coba, in the Mexican state of Quintana Roo. It's one of the last cities built and inhabited by the Maya. Nowadays it's a small eco-paradise. Think: hippie vibes, artistic murals, restaurants and Matcha bars, white beaches, blue water and palm trees every-where. Lily and I fell in love with Tulum straight away.
Like locals
We took a local van from Playa del Carmen to Tulum for 45 pesos, which is like 2 euros. It takes you to the town Tulum. From that point you need to take a taxi to the beachside. After a few minutes driving you'll enter 'Carretera Tulum-Boca Paila, Zona Hotelera' aka the Hotel Zone of Tulum. We were desperate to visit Nômade after seeing so many images on the internet so straight to that magical place!
Bring mosquito repellant
Nômade was everything we expected it to be and more. It's truly a small part of paradise. The food is amazing, the people are friendly and literally every corner of that place is too much goodness to handle. If you want to take pictures there, you sincerely don't know where to start. Oh btw, remember to bring mosquito repellent spray 'cause you will need it. The mosquitoes just love all the green there, and our blood too. Lol. Obviously it's not needed alongside the beach but once you get closer to the restaurant and rooms you will.
Never want to leave
Lily and I didn't stay for the night so around 5 in the afternoon we went back to our hotel in Playa del Carmen. If you ask us, Tulum suits us much more. We didn't really wanted to leave therefore already thought about coming back later in the week.
Back at the hotel we took some time to freshen up and afterwards have dinner. We still had some money left to spend at Los Tulipanes. Same story: the fish was so good, but the side dishes we're okay. If they served grilled vegetables with it, we would be the happiest.
DAY 3
BEAUTIFUL VALLADOLID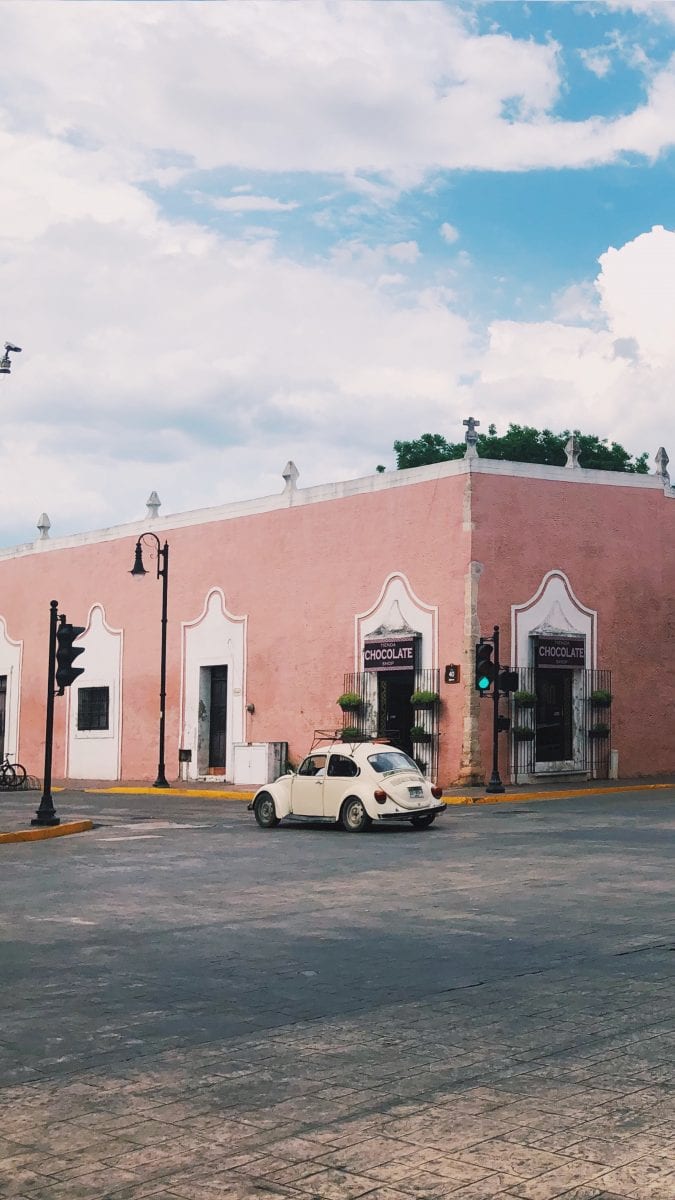 'Havana of Mexico'
Having two days along the beach was great, but now it's time for some culture. We wanted to see a different part of Mexico, so we ended up going to beautiful city Valladolid. This colonial city of Spanish arcades and 16th-century spires is located on the Yucatán Peninsula. The old town is made up of a variety of historic houses, palaces, churches, plazas, avenues and parks. Lily and I find it the 'Havana of Mexico', with the Retro VW Beetle everywhere you go. Very nostalgic to me. If you follow me on Instagram you might read my caption about the Citroën Diane my grandmother used to own. It looks like the Beetle, so I love me some oldtimers.
Our favorite street
What I love about traveling is to explore and wander the streets. Valladolid is #bestbackdrop heaven. One of the most beautiful streets is Calle/Calzada de los Frailes, also known as Calle 41A. This street is filled with cute boutiques, specialty shops, restaurants and gorgeous / well maintained houses. There are so many cute and colorful spots: pastel buildings everywhere.
Catedral de San Gervasio
The vibe in Valladolid is much more 'tranquilo'. One of the highlights in Valladolid is definitely Catedral de San Gervasio. This cathedral is located on Calle 39 between 40 and 42, across the street from Francisco Canton Parque on the south side of the park. Lily and I haven't been inside, but if you can, please do! We read it's very beautiful there as well.
We ended this day with frozen smoothies on a small rooftop at one of the restaurants nearby our bus stop. Valladolid, you are a treasure!
DAY 4
CENOTE AZUL & AKUMAL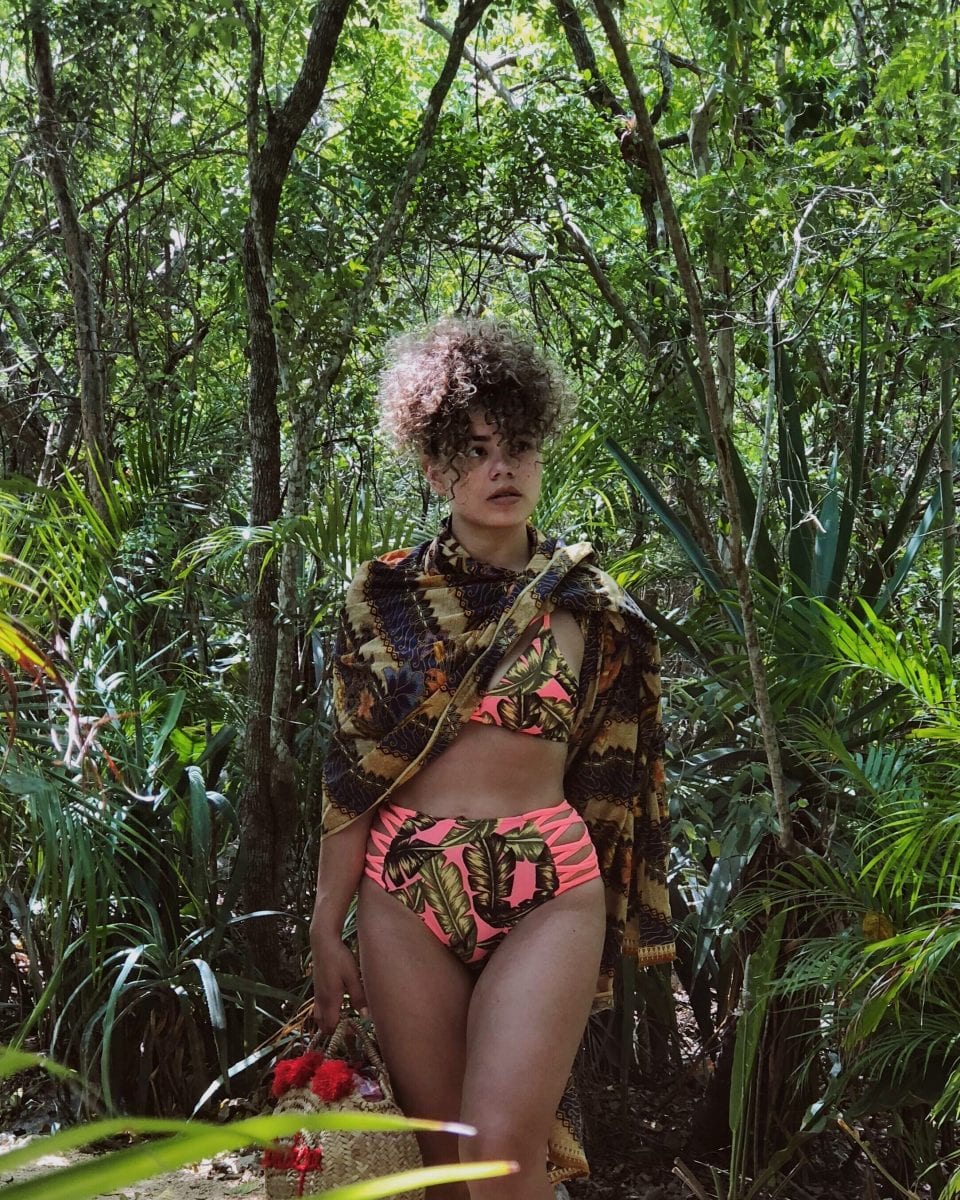 Green sea turtles
After culture, comes peace with nature. It's time to explore a cenote. There are so (like so, so, so) many cenotes to visit in Mexico. From smaller ones, to bigger ones, hidden ones, and so on. Logistically we chose for Cenote Azul, since we wanted to visit Akumal (a small town between Playa del Carmen and Tulum). Lily has been in Mexico before and told me about the great experiences she had at Akumal beach. Why? At Akumal Beach you can swim with (protected) green sea turtles in their natural habitat. Akumal in the Mayan language means 'land of turtles'. It's still one of the favorite places for these marine animals to spawn. Besides that, Akumal is known for its spectacular bay with clear waters and underground rivers. But cenote first!
Touristic but beautiful
Cenote Azul is about a 20 minute drive from Playa del Carmen and it's quite large. There are several different areas with various depths so it's totally up to you if you prefer to dip into the water, swim or even jump in from a cliff. I love to be closer to nature so I fully enjoyed to be at this magical place. However the cenote was very popular and therefore very touristic. Tip: get up early and visit the cenotes in the morning. It might be a lot more quiet at that time.
Fish!
The water at the cenote is super clear, fresh yet also filled with tiny fishes that come so near you and sometimes even touch you. It tickles! If you're not a fan of fish, I'd advise not to go into the more undeep parts of the water. The fishes were everywhere there. One unknown lady was shocked when the fishes touched her. She screamed so loud, holding on to Lily and me. The rocks there are super slippery, but the only thing this senorita could think of was: "Save me from the fish!" Lol. It was hilarious!
"I wonder if the Spa's use the same types of fish for their foot treatments .. Never tried that ish. Have you?'
Not what we expected
After the cenote we went to see Akumal Beach. However .. we arrived super late since the driver of the van didn't stop at our location. So stupid, so we had to take another van back to get there. Long story short: we arrived after wasting precious time. And unfortunately Akumal wasn't what it was nor what we expected. Lily told me it was different then when she came 5 years ago. Also much more commercial, touristic and crowded. Another thing, it started to get cloudy and a bit windy: we were sure it was going to rain. So no snorkeling for us this time.
A rainy way back
We were right, the rain was coming. And not even a little. These showers were for real. Haha! Arriving soaking wet at the van and eventually at our hotel. Yet we enjoyed another day to the fullest.
DAY 5 & 6
EXPLORING TULUM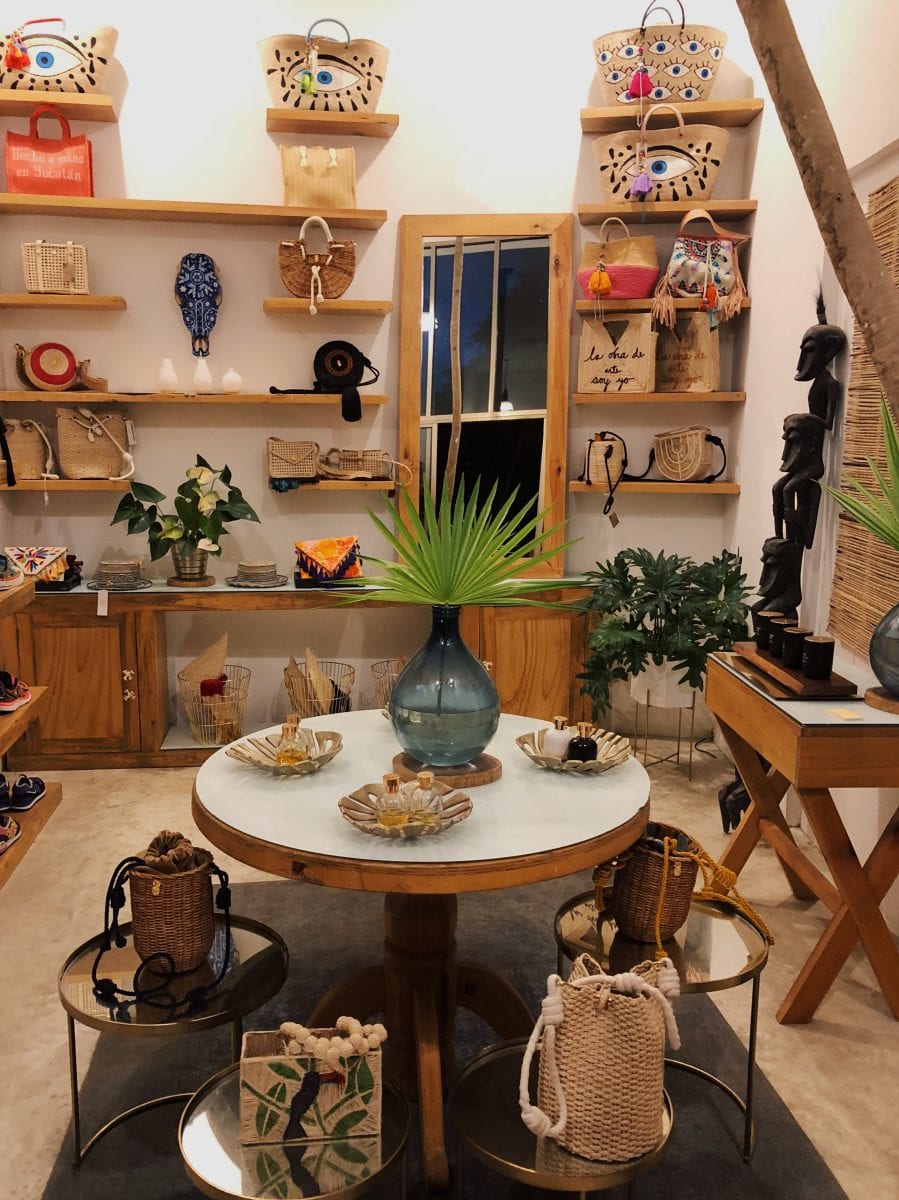 Processed with VSCO with c8 presetIMG_4625
One night stay
When we first arrived in Tulum on day 2, our minds we're so blown away of its vibes and beauty. It's completely different than Playa del Carmen. You need to know that it's yes, also touristic (just like Playa). However different. Nevertheless there's a great vibe in Tulum (think: Gypsy, Bohemian kinda ish) and it's just stunning, which makes it feel so much like paradise. We decided we wanted to experience more of this so we booked a stay for one night at Playa Canek Hotel, one of many hotels along the beachside of Tulum. Palm trees, breezy wind and a room with beach view. Perfect.
Rent a bike
What you need to do when you're in Tulum: rent a bike. It's so much easier to get around. I quote Lily: "Do you feel that freedom?" – lol. But it's true! No better way than riding a bike in a foreign country. You can stop whenever you like and see so much more. Obviously we made a few stops for some #bestbackdrop action and for the highlights. Like Mama Matcha!
Beautiful lights
Around 8 people come out for dinner and are having margaritas after. We wanted to be seated at Hartwood (highly recommended restaurant for its food and atmosphere), unfortunately they were fully booked. So if you go there, make sure you make reservations! We ended up at Casa Banana. Very cozy as well, with loads of lights. The food was really good too. I ordered the shrimp and beef skewer. Lily had the duck. Both very tasty and well prepared. We enjoyed it!
Latin music
As we finished diner, we felt like latin music and margaritas. Not that far from Casa Banana is Gitano. Lily and I love latin music but even better when it's live. Lucky for us there was a live band playing when we arrived. They didn't play the whole night, afterwards a DJ took over, playing more dance and house music. Bummer, yet the atmosphere at Gitano is amazing.
We really don't want to go
The next day we chilled a bit more. Next on our list was Be Tulum, however they charged 50 dollar per person to eat and drink at the beach and an extra amount for the rent for beds. So, we went back to Nômade. At around 4 we planned to leave again, back to Playa del Carmen. Really. Didn't. Wanted. To. Leave.
Off we went. Bye Tulum, you we're so good to us once again!
DAY 7
THE LAST CHILL
Last hours
Our last day already. Where did the time go? Our transportation to the airport would arrive at 3 in the afternoon. But our checkout at the hotel was at 12. We had to decide what we could do best for those 3 hours. A pool day at the hotel it is. Everything we still wanted to see or do was too far away, with also no option to freshen up after. Might not be the most exciting day, yet it was quite nice to just enjoy the pool for a few hours. Taking in all the experiences we had, things we saw, and so on.
Love for Gabriel
Last but not least, I really wanted to mention Gabriel. He works at the hotel every single day, serving our juices and coffee every morning during breakfast. From day one he remembered our names and he was the most kind of all. So polite, sweet and caring! We asked Gabriel if he ever has a day off. He told us that he does, but that he basically wants to work on his day off. Since he needs to provide for his 21-year-old daughter in law school. The things people do for their kids .. Gabriel is so much appreciated. Thanks to him he made our stay so much better!
We'll be back
So, my experience in general? Amazing. I would love to come back to Mexico again and maybe even do a large road trip. From what I've seen so far, Mexico has such a vibrant culture. From the delicious variety of food, to the Spanish language, to the gorgeous natural beauty, to the ancient Maya civilization ruins. But also the kindness and generosity of the local people. 'Til we meet again!
Latest Blogs
5 Must Eat Ghanaian Local dishes in 2023
5 Must Eat Ghanaian Local dishes in 2023