If you're anything like me then, you're constantly in search of the best deals. I used to spend hours, days, weeks stalking airfares and doing price comparisons for trips until I finally learned to utilize tools, points, booking engines, cash back systems, etc to my advantage. How much time do you spend searching for the cheapest airfares? What is your strategy?
Booking Engines Matter
Believe it or not, booking engines matter! I rarely book directly on the airline website anymore, unless there is a need to use airline points. These are the top sites that I use for finding the lowest rates and analyzing various factors when booking airfare.
1. Hopper is a free mobile application that I really like using for a number of reasons. First of all, it is very user friendly and provides a broad outlook of airfare prices over time. If your travel dates are flexible then you can see which days have the lowest pricing. Also, the site provides predictions on when prices will drop and notifies you of significant price changes when added to the watchlist.
2. Sky Scanner is a great site to use for price comparisons. It scans various sites to provide a list of options then links directly to the site you choose for booking. Additionally, it provides top recommendations and getaways for you to consider. It also provides a low fare calendar so that you can easily spot lower fares by the day.
3. Secret Flying is a very useful site for unlocking flight deals from all over the world and more. I use this site and others to find the latest flight deals, error or fuel dumping flights that I can book for the low.
I use these great resources for finding great flight deals then book everything via my top site to take advantage of the lowest price guarantee and reward dollars. For example, I booked my roundtrip flight from Houston to Hong Kong for under $500 and also to Paris for $333 roundtrip (see snapshot below for Paris roundtrip flight that I took in March 2017).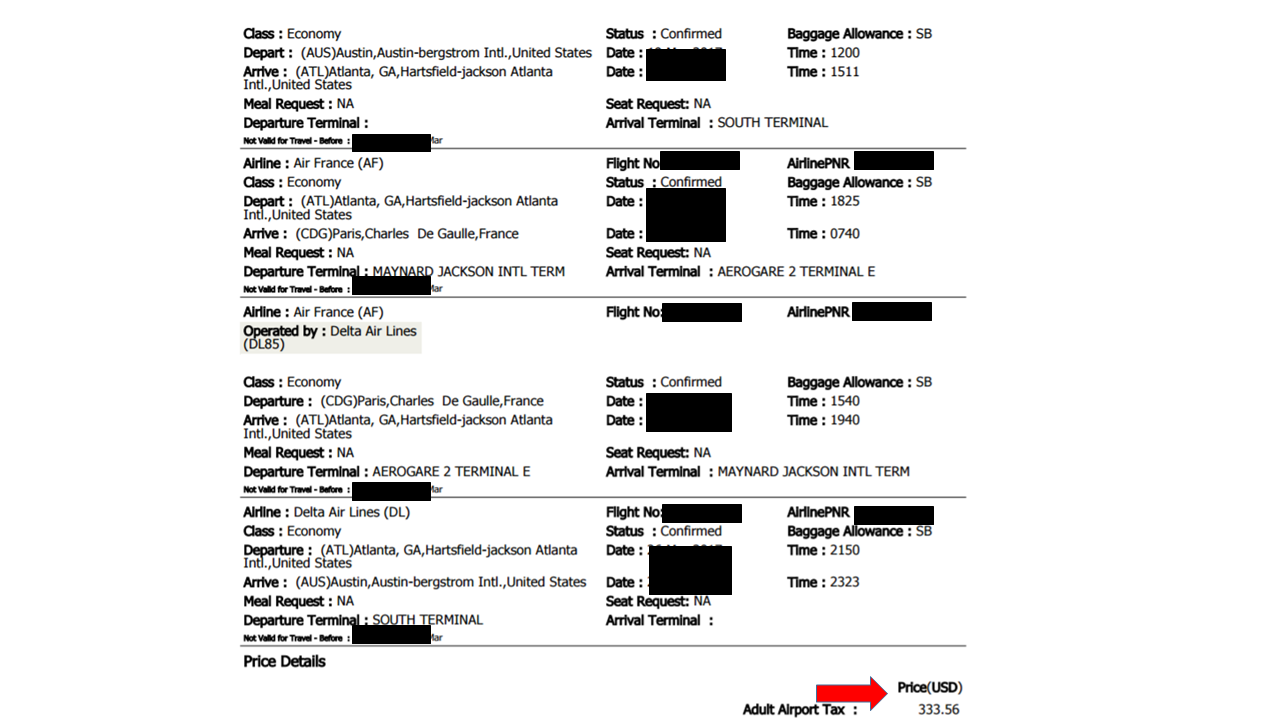 Lowest Fare Based on Destinations
Sometimes it is worth the cost to drive or take public transit to an airport that is further away or to arrive in a nearby airport that may not be your final destination. Of course, it is up to you to weigh the cost/benefit of doing this. I always search the rates of nearby airports and weigh these options for my international trips.
You may even come across lower airfares that include your desired destination as a layover instead of a final destination. You can try skipping the last leg of the flight to stay in your desired destination; however, you will need to familiarize yourself with the airline policies. Your bags may continue on (depending on the baggage rules for the layover time) and you will not receive frequent flyer miles. For example, I used this method for my trip to Jamaica. I booked my flight from Montego Bay to Houston (for an overnight layover) then final destination to Austin because it was significantly less to go that route. Because it was an overnight layover in Houston, I was able to grab my checked bags in stay in Houston.
Don't Fall for the Inflated Prices
Searching the same route multiple times may inflate the rates for you. If you're the type of person that checks the same flight every hour then you'll need to disable your cookies so that you're starting with a clean slate for the flight search. Again, if you use Hopper or Skyscanner then you're covered and will have easy access to price drops.
Budget Airlines
I must admit that I sometimes fly Spirit or Frontier Airlines to save my coins. Yeah, you literally have to pay for everything including air. Haha! The fees are bananas but if you plan accordingly then you can get away with paying small fees for what you need. It is very important to check the fees before booking a budget airline. Another budget airline is WOW, mainly on the East Coast – They always have great deals for international travel.
Major airlines such as United and American are now following suit by offering basic economy fares that do not allow passengers to select seat assignments or check bags. This is a good economical offer if you travel light and don't care about where you sit.
Check local airlines via the airport's website. Oftentimes, the local airlines have lower rates as well. But don't be surprised if you end up on a small 10 passenger propeller plane, like me when I fly back home to Arkansas.
Frequent Flyer Programs
It doesn't hurt to sign up for the airline's frequent flyer programs to earn points and status for flying. I have an account with all of the major airlines and even some of the budget airlines in case I decide to purchase one of their flights. My preferred airline is United as I have Mileage Plus status as well as the most frequent flyer miles with the carrier. This comes in handy for getting various perks, purchasing flights or buying products using mileage points.
Travel Date Schedule
The low fare schedule is your friend! Find the lowest fare dates and duration that best fits your schedule. Many sites show a flexible date schedule that makes it easy to view prices by date. You can also try booking one way flights using a combination of airline carriers to drive down the price. I often do random searches to anywhere in the world to find error fares and flight deals and book vacations based on the dates offered. And don't forget to use the booking engines I mentioned above to find the best rates and earn rewards.
Latest Blogs
NOW is the BEST time to BOOK a vacation to South Africa: Take Advantage of the Favorable USD to ZAR!
NOW is the BEST time to BOOK a vacation to South Africa: Take Advantage of the Favorable USD to ZAR!